The body between Knowledge and Belief (HD, 15′, script and direction, 2015) with dancer Suzan Tunca
Hakkikat (2014) with Suzan Tunca
Double Sided Canvas (2013), a research with dancer Suzan Tunca resulting in a film script and a video installation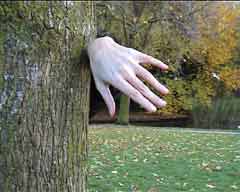 May 25, 2018, opening 5pm
Open each Th – Su; 12-17pm during the summer
Group show NDSM, Amsterdam.
Showing a video in a cabin on wheels.
May 26-27, 2018; Open studio's North of Amsterdam.
November 19-21, 2014
Participation group show Hidden Rooms at Ca Zanardi Venice.
International video-art, experimental dance and performing art festival.
Weekend November 01 & 02, 2014
Showing a preview of the video-installation 'The Body between Knowledge and Belief' with dancer Suzan Tunca within the Open Studio trajectory Ontdek de Kunst van Zuid in Cinetol Tolstraat, Amsterdam.